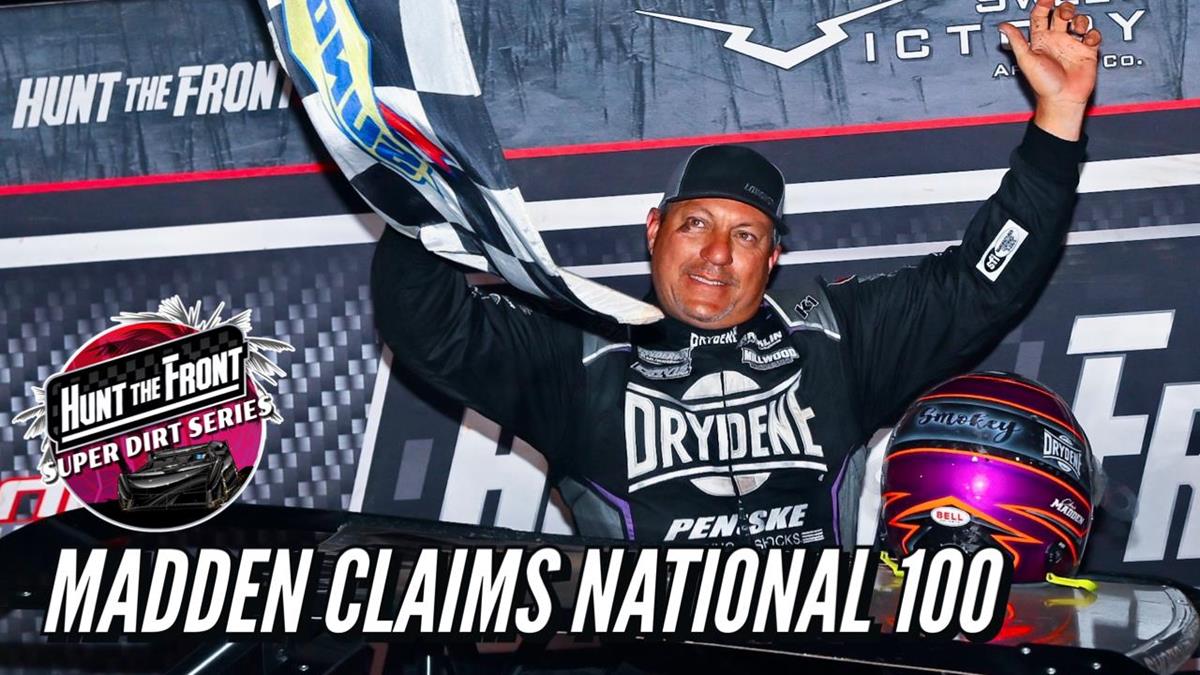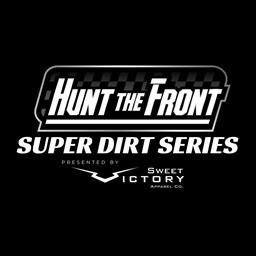 10/29/2023
Hunt The Front Super Dirt Series
---
Madden Wins Third National 100, Bags $49k at EAMS
By Robert Holman
PHENIX CITY, Ala. (Oct. 29) — The only person able to slow down Chris Madden's charge at East Alabama Motor Speedway on Sunday was flagmen Wil Dykes. Madden cruised to his third career National 100 victory, but had to do so in stages. Thanks to 11 cautions that intermittently slowed the action, Madden, of Gray Court, S.C., never managed to drive away from pursuers Jimmy Owens and Brandon Overton, but the 48-year-old star was never seriously threatened either.
While building leads of more than 2 seconds — when given the opportunity — Madden led all 100 laps for a $49,000 payday in the 49th annual event that was a non-points race for the Hunt the Front Super Dirt Series and was officiated by HTF Series staff. It was his third career win in East Alabama's premier event.
Madden, who started second alongside polesitter Richie Stephens, finished 1.342 seconds ahead of Newport, Tenn.'s Owens to collect his eighth victory on the year and richest payday of the season. Kyle Bronson of Brandon, Fla., gained six positions in his run from ninth to third, while Ricky Thornton Jr. of Chandler, Ariz., started fifth and finished fourth in his first-ever visit to the Phenix City oval. Tyler Erb of New Waverly, Texas, improved five spots to complete the top five after a pair of runner-up finishes in his first two National 100 starts.
Meanwhile, Evans, Ga.'s Overton, who ran third for 53 laps and held the second spot briefly (laps 35-38), gave up fourth when he pitted to change a right rear flat during a lap-91 caution. He returned to the track in 10th, but was unable to make up any ground.
No one in fact was capable of making up ground on Madden, who extended his impressive National 100 record with his ninth top-five finish in 14 starts.
"This is a brand new car here this weekend. Man it just feels great to get back in the winner's circle," said Madden, whose last victory came on Aug. 4 at Wisconsin's Cedar Lake Speedway. "We had a great race car. We had, you know, from the bottom to the middle to the top (of the track) I couldn't of had a better car. My guys give me an outstanding car tonight, so it was my job to get it done for them and not screw it up. Hat's off to all my guys. Like I said, it feels good to get back in victory lane. We'll go home and rebuild this thing and get ready for Charlotte next week and hopefully we can get us a couple wins up there."
Madden became the 11th driver on record (records from five National 100 events are incomplete) and first since Owens in 2015 to lead the National 100 from start to finish. But it wasn't without a hiccup. Just before the feature began, Madden and his crew were thrashing to fix a problem with his Longhorn car's fuel system that almost kept him from making it to the starting grid.
"We just had a major issue right there before time to go," said Madden. "We had a fitting come loose right there inside the fuel cell so we had to take the fuel cell out of the car and try to fix that and get it back in before time to go there. I just want to thank my guys. They work extremely hard and done a great job for me."
Owens, a two-time National 100 winner, chased Madden from the second spot for 83 laps, including the last 62 after retaking the position from Overton. Despite the cautions keeping the deficit relatively small, he couldn't keep pace with the leader on longer runs.
"We could fire off real good, especially when the tires cooled down," said Owens. "Then when they got hot, or once we got to going and got a few laps in, our brakes started getting pretty hot and all that stuff and I just got tighter and tighter as the race went. You know I think we made it to about second. Chris was definitely the class of the field tonight.
"He could just rotate through the center of the corner so much better than me and that just made it difficult for me to get by them (slower) guys. So he could rotate and get by 'em a whole lot easier than I could. Once (the track) started locking down, it started getting harder and harder to get by 'em. You know, we're glad to bring this Koehler Motorsports car home with a good second-place run. It was a good weekend."
Like Madden, Bronson was sporting a brand new race car. Making this third career National 100 start, the ninth-starting Bronson rallied to gain six spots. He grabbed two positions following a lap-69 restart to go from fifth to third but could climb no further.
"You know, to run second to Chris and Jimmy, you know, these guys are on social security here, so I gotta be happy," joked Bronson. "I love racing with these guys you know. They're really good in this type of stuff, banked racetracks, black stuff. (It is) hard to outrun these guys but we're learning, gaining on it. Brand new race car. This was our first night out on it this weekend."
Bronson said he drove just as hard as he needed to to keep fourth-running Thornton at bay.
"Madden would get out there and start cruising and everybody was getting tight there so it was kinda hard. You were shearing the right front (tire there) at the end. I felt like I was driving in the middle probably not as easy as I needed to, but not as hard as I could have, so it was OK. So we made it to the end … try to come back next year and get a couple spots better."
The Hunt the Front Super Dirt Series will close out its inaugural season with a second non-points event when the Florida-based tour visits Duck River Raceway Park in Wheel, Tenn., on Nov. 18 for the $10,000-to-win Gobbler.
---
Article Credit: Simple Moments Photography
Back to News